General Waste – Energy Recovery Facility
Did you know that Cardiff Council no longer sends waste to landfill in Cardiff?
We no longer have any active landfill sites in Cardiff and instead use the Energy Recovery Facility (ERF) in Splott. The Council delivered this facility cooperatively with a company called Viridor, and four other local councils as part of the Prosiect Gwyrdd partnership.
Every year it handles up to 350,000 tonnes of non-recyclable waste and incinerates it to generate enough energy to power around 50,000 households. All fumes and smoke are cleaned (or scrubbed) in the chimney stack before releasing into the atmosphere, so no harmful pollutants are released. Any bottom ash which is left over is used as aggregate for road surfaces, making this facility fully sustainable with zero waste.
Recovering energy from waste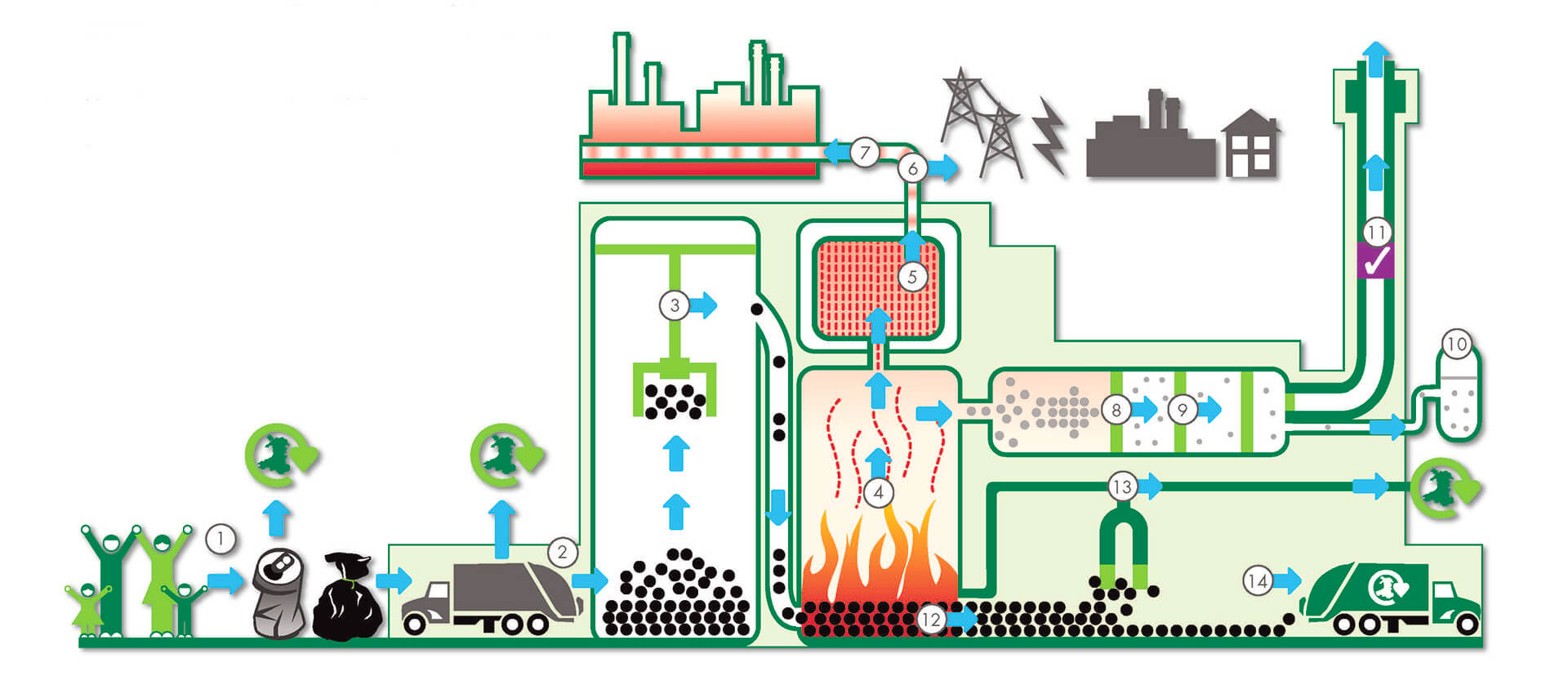 1. We all recycle and compost as much as we can.
2. Waste can be pre-sorted to collect any recyclable materials left over.
3. The waste is fed into the incinerator.
4. It burns at temperatures over 850°C.
5. Heat enters a boiler to produce steam.
6. Steam powers a turbine that generates electricity for homes
and businesses.
7. Excess heat can be piped to neighbouring buildings for heating.
8. Harmful gases are removed.
9. Particles are filtered.
10. Material collected by the air clean up system is sent for treatment.
11. All emissions are monitored to meet strict environmental standards.
12. Ash is collected at the bottom of the incinerator.
13. Magnets remove any remaining metals for recycling.
14. Ash left over can be used in construction projects such as new roads