The benefits of separating food waste:
Reduces pest and vermin problems – taking the food waste out of your orange bags will prevent them from being ripped open
Reduces nasty smells
Saves you money
More sustainable
This is most suitable for businesses who don't produce much food waste. We can provide a 35 litre food caddy with biodegradable liners, for a kerbside collection.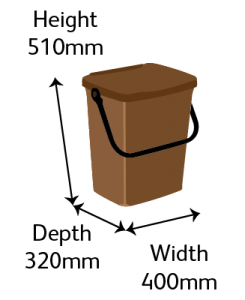 35L caddy
Dimensions 510mm (H) x 320mm (D) x 400mm (W)
Wheeled Bins
For larger waste producers, we can provide wheeled bins. Due to weight restrictions, these bins can only be filled to 75% capacity. All food collections come with a quota of free biodegradable food bags.
We can also provide smaller food caddies to assist disposal.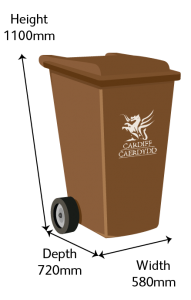 240L
Two wheeled container
Dimensions: 1100mm (H) x 580mm (W) x 720mm (D)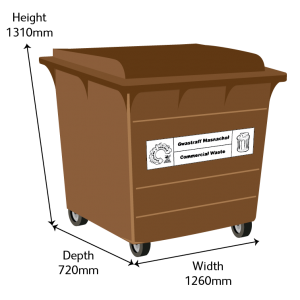 500L
Four wheeled container
Dimensions: 1310mm (H) x 1260mm (W) x 720mm (D)