Collecting your recycling separately will save you money, so we recommend this service to all customers. We can collect dry mixed recycling in one receptacle, or you can separate it even further with bins for glass or cardboard.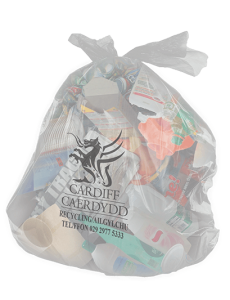 Businesses which do not have suitable storage for waste are encouraged to utilise our bag collection service. We provide customers with clear recycling bags for mixed recycling which are placed on the kerbside for collection, on your specified collection day.
The amount of bags you use is completely up to you, and you will only pay for the bags you present for collection.
Wheeled Bins
For businesses with suitable storage space we can offer a range of bin sizes to suit your level of waste production. All bins have the option to come with lockable lids and we will also provide a quota of blue recycling bags free of charge.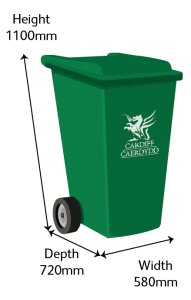 240L bin
Suitable for 3-4 refuse bags.
Dimensions: 1100mm (H) x 580mm (W) x 720mm (D)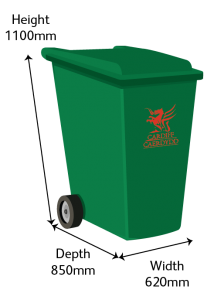 360L bin
Suitable for 4-5 refuse bags.
Dimensions: 1100mm (H) x 620mm (W) x 850mm (D)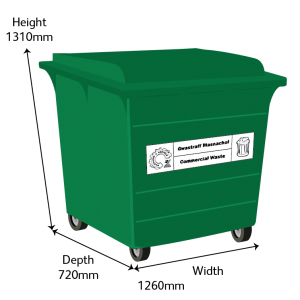 660L bin
Steel container, suitable for 8-10 refuse bags.
Dimensions: 1310mm (H) x 1260mm (W) x 730mm (D)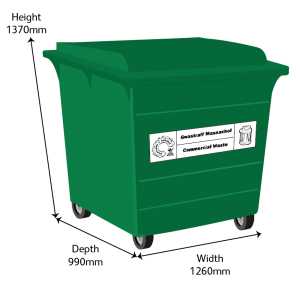 1100L bin
Steel container, suitable for 15-18 refuse bags.
Dimensions: 1370mm (H) x 1260mm (W) x 990mm (D)
We can accommodate your requirements by emptying these bins on a schedule that suits you. You will be charged per lift (or empty) of the bin, and we offer a flexible service where additional collections can easily be requested.
These containers can be hired or purchased as part of the service.
We can collect bundles of cardboard from the kerbside, with the purchase of our orange cardboard labels.
Place one label on a bundle of cardboard (up to the size of a refuse bag) and we will remove on your scheduled collection day. Just like the bags, you only pay for the number of labels you use.
Alternatively, if you consistently produce a lot of cardboard and have sufficient storage, we can provide you with a 1100L bin.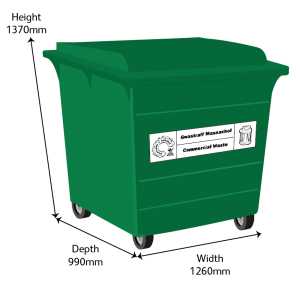 1100L bin
Four wheeled steel container.
Dimensions: 1370mm (H) x 1260mm (W) x 990mm (D)
For large quantities of glass we can provide you with a 240L bin.  Please note that due to weight restrictions this bin can only be filled to the half way point.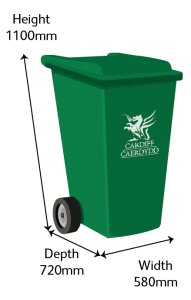 240L bin
Two wheeled container.
Dimensions: 1100mm (H) x 580mm (W) x 720mm (D)